Dignity Operation spokesperson: Presidency Council met with Al-Qaeda leaders to plan attack on oil ports
Dignity Operation and its media accuse opponents of being ISIS, Al-Qaeda and Muslim Brotherhood affiliates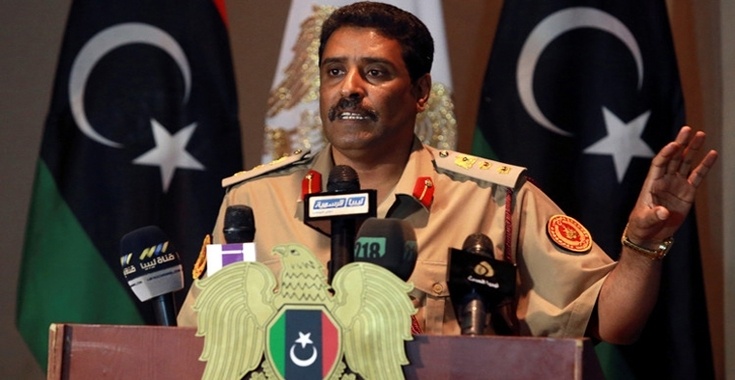 Spokesperson of Dignity Operation Ahmed Al-Mismari claimed on Saturday that some members of the internationally recognized UN-proposed Presidency Council and High Council of State held secret meetings with leaders of Al-Qaeda and Muslim Brotherhood to mastermind the attack on the oil crescent region by Benghazi Defense Brigades.
Speaking in an extraordinary press conference, Al-Mismari said the meetings were held in Tripoli and Misrata and attended by President of High Council of State Abdul-Rahman Al-Swaihli, some members from the Presidency Council and leaders of Al-Qaeda and Muslim Brotherhood.
"This is a coalition of all terrorist groups in western Libya against the Libyan National Army in the east," he indicated, adding that their aim is political opportunism.
He also claimed that Al-Qaeda and Muslim Brotherhood are competing for the control of Tripoli and oil ports to have more influence on the ground.
Earlier, Al-Mismari accused Qatar and Turkey of supplying advanced military equipment to Benghazi Defense Brigades ahead of their military operation in oil ports.
Dignity Operation and its media outlets are accusing opponents of Khalifa Haftar and his military dictatorship of being members of ISIS, Al-Qaeda and Muslim Brotherhood to gain support from the international community.
How Dignity Operation propaganda machine works
Shortly after the Friday control of Sidra and Ras Lanuf oil ports, in addition to Bin Jawad and Nofaliya towns by Benghazi Defense Brigades BDB, the media outlets of Dignity Operation started a campaign to counter the march of BDB toward Benghazi, at least to assure supporters that situations are under control.
Notorious TV presenter Mohammed Emtalel claimed on Libya News Channel that "Libyan National Army" had retaken Ras Lanuf and Sidra oil ports. He said that the "army", Khaifa Haftar's armed groups, were advancing in Bin Jawad and Nofaliya towns to expel the terrorist groups.
He went further on his claims and said that BDB commander Brig. Mustafa Al-Shirksi was wounded in clashes and that Khalifa Haftar's ally in south Libya Mohammed Bin Nail was besieging Jufra Airbase.
Emtalel's rumours of retaking Ras Lanuf were quickly spread to many news outlets affiliated with Dignity Operation.
To gain support of international community, Dignity Operation media outlets have accused Benghazi Defense Brigades of being members of Al-Qaeda group, though BDB has for several times denied the accusations of being Al-Qaeda or have any links to other terrorist groups.
BDB commander Brig. Mustafa Al-Shirksi has made it clear that his brigades have no links to any group in or outside Libya. In fact, Benghazi Defense Brigades are backed by Defense Minister of Presidency Council Al-Mihdi Al-Baraghati and PC member Mohammed Amari, in addition to several brigades from Al-Bunyan Al-Marsoos Operation.
Dignity Operation media outlets also claimed that Al-Qaeda group wants to occupy oil ports and east Libya region. Traditionally, Dignity Operation accuses opponents of being terrorists and classifies them as ISIS, Al-Qaeda and Muslim Brotherhood. Since ISIS accusation won't work with BDB, so Al-Qaeda is the right option. Last year, Dignity Operation mouthpiece Emtalel accused former US President Barrack Obama of being a member of the international network of Muslim Brotherhood for not backing Khalifa Haftar.
Dignity Operation has also a human rights group working for its agenda. Yesterday, the National Commission for Human Rights in Libya (NCHRL) called the ICC to prosecute Libya's Grand Mufti Al-Sadiq Al-Gharyani for backing Benghazi Defense Brigades' right to return to their city after years of displacement.
While turning a deaf ear to the several threats made by Dignity Operation commanders, including Kahlifa Haftar, Ahmed Al-Mismari, Abdul-Razzaq Al-Nathori, to invade Tripoli and cause bloodshed in the capital where more than 2.5 million people live, the NCHRL accused the Mufti of inciting violence and hatred and backing terrorist organizations.
Benghazi Defense Brigades are made up of Benghazi residents who were forcibly driven out of their city. They said the aim of their battle is to allow the city's IDPs to return back safely. The Mufti showed support for their right and reiterated his call to defeat Khalifa Haftar because he is the main obstacle to Libya's peace and stability. His call to put an end to dictatorship in east Libya and Khalifa Haftar's ambition to rule the country was interpreted by Dignity Operation and its media arms into a call for bloodshed and violence.