From "the Holy Invasion" to "the Big Escape", Khalifa Haftar forces lose oil terminals again
Updated at 6: 20 pm: Dignity Operation forces retake Sidra and Ras Lanuf after drone strikes on Ibrahim Jadran forces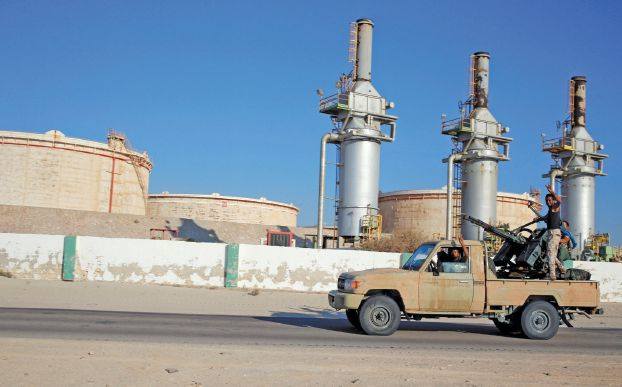 Dignity Operation recaptured early on Thursday Libya's Ras Lanuf and Sidra oil terminals from Ibrahim Jadran's co-called Petroleum Facilities Guard in a military operation called "the Holy Invasion." But it was only for a few hours and Jadran lashed Dignity Operation forces again in a counter-attack after retreating from both terminals.
Jadran forces confirmed the takeover again and said they are besieging the fleeing forces of Haftar in Wadi Khahilah, some 30 km east of Sidra.
"We control the areas from Harawa town in the west of Sidra to Ras Lanuf in the east." A source from Jadran forces said.
There are reports of more than 20 deaths and several prisoners among Dignity Operation forces.
Military experts have questioned Khalifa Haftar's ability to maintain control of the oil crescent region in absence of foreign airstrikes from his backers Egypt and the UAE.
Earlier in the day, warlord Khalifa Haftar announced "the Holy Invasion" to retake Ras Lanuf and Sidra oil terminals, saying in an audio recording that his forces are fighting "God's enemies."
Media reports affiliated with Dignity Operation said Haftar was planning to make an official speech on TV to declare victory in the oil crescent region, but he postponed the speech after his forces' escape from Ras Lanuf and Sidra oil terminals.