Sharing Indonesian Best Practices on Aviation; Appreciation for Libyan Participants in Indonesia Flight School
By Mohammad Amar Ma'ruf, Charge d'affaires of the Embassy of the Republic of Indonesia in Tripoli - Libya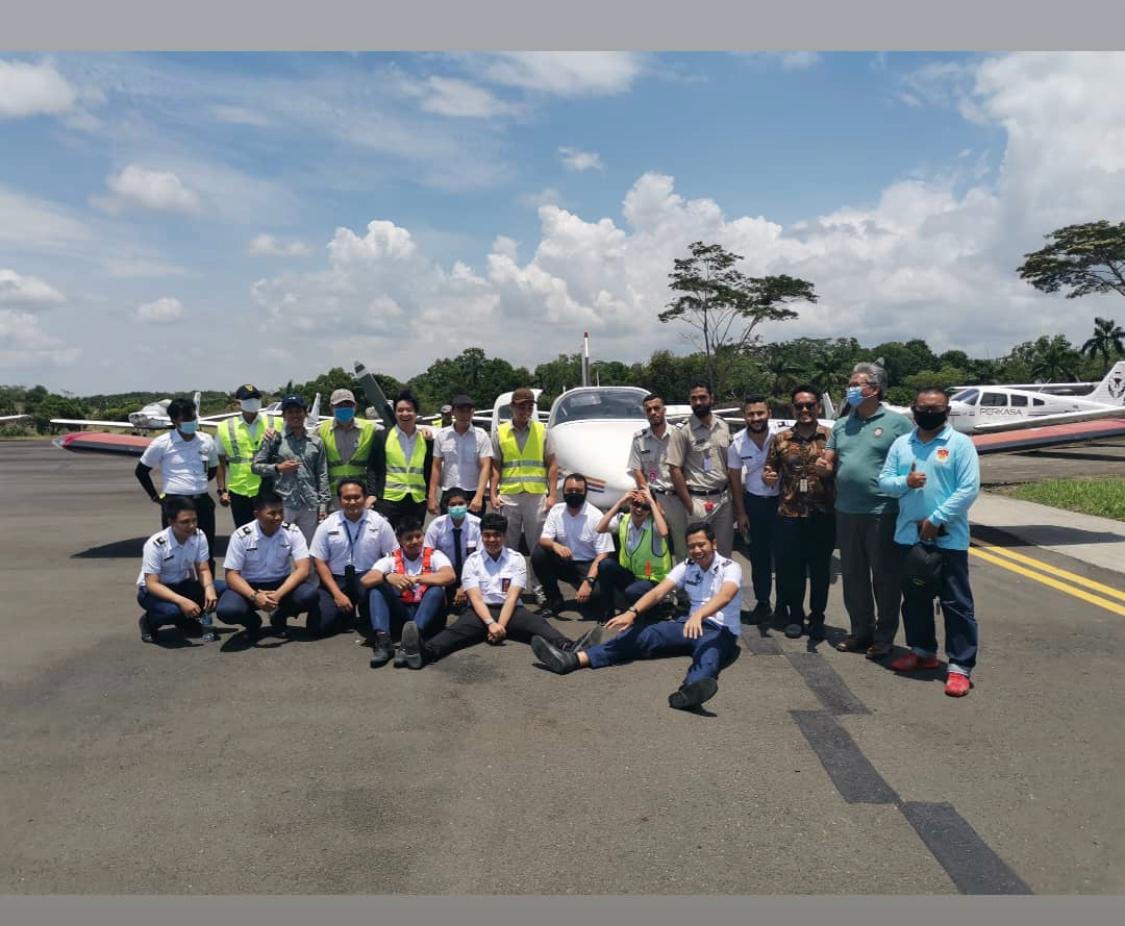 In Indonesia, the Pilot Profession is frequently said as Gatotkoco of the Air. Gatotkoco itself is prominent figure taken from historical of the Indonesian ancient culture that symbolizes fly-skilled figure. By having this skill, this figure spreads goodness for all human being and environment. Therefore it is an honour for someone to get this call as Gatotkoco.
In this article, I would like to give special appreciation to the Libyan pilot cadets who have finalized their program from the Indonesia's Flight School and support for their success in doing this profession.
During decades Libyan are familiar with the Indonesian aviation world. In my knowledge that many Libyan Pilots have their flight simulator training for its pilot in Indonesia. And until now some of the Libyan have been registering and training as the cadet pilots in Indonesian Flight School program.
It is proved that Libyan is quite familiar and trust with the Indonesian flight school and aviation simulator institutions. For Indonesia is big responsible to make dependable pilot in their certain kind of aircrafts.
Uniquely, Indonesia is well-known as the archipelago country with its thousands islands and mountainous topography. Islands are being connected with sea and air above.
This situation obliges Indonesia to be aware on how strategic and important to prepare infrastructure and human resources in managing the country fact in order to be able to connect their people needs in one island to another island within the Indonesian territory.
In this context the international cooperation such as sharing knowledge and best practices is the best way to assist and achieve the main goals of the civilized country to create welfare for its peoples.
Other unique facts is air is different space comparing with sea. Any state must have their own air. Meanwhile not all country have its own sea. Therefore, the term of landlocked (non-coastal) country is being known in the International Law of the Sea 1982. So preparing human resources who have interests in this field to be Gatotkoco or build this industry is one the best choices.
Talking about Air Industry in Indonesia, Indonesia's government since the 1970's has been noted as the pioneer in manufacturing the aircraft.
Historically, this measure is initiated by very well-known Indonesian engineer whose life was full of contribution to the country. He is the third Indonesian President whose name is Burhanuddin Jusuf Habibie. His contribution is very recognized not only in Indonesia but also in the international aviation world. One of his best heritages is the development of the aviation industry.
Depart from his skill, our former second President, President Soeharto, called engineer Burhanuddin Jusuf Habibie at that time he was still working and studying in Germany to come back to his country to strengthen the industrial and technology in Indonesia.
This measure had successfully developed many of well-known strategic industries for Indonesia; some of them are Manufacturing Aircraft, Train and Sea Ships etc.
The above heritages have been kept well and anticipated by preparing new generation in the field of aviation, shipping and other strategic technology. Many skillful Indonesian are being hired and worked at the international Aircraft industries.
Following the above Indonesian senior achievement in this field, Indonesian government encourages to develop this technology and its industry including their supporting academies.
This policy encourages also people society to participate in establishing the flight academy or schools. The government also encourages cooperation with the countries in enhancing the world aviation cadre and technology. With the hard work of this human resources, Indonesia become one of the best place to youngsters who want to be pilot.
Recently under collaboration between Perkasa Flight School and Alajnihah Air Academy-Libya some Libyan whose names are Mohamed Abdulhakem Kankoun,. Sanad Mohamed Zaid Ellali, Aboubakar Mohamed Sagezil, Taher Ibrahim Arebi and Rawad Moftah Aboseta are trained and being trained as cadet pilots in Indonesia Flight School.
Two of these five cadet pilots, Mohamed Abdulhakem Kankoun, Sanad Mohamed Zaid Ellali, have completed their pilot training and the other three are still training in Indonesia.
To maintain this good relations and closeness between the Indonesia's school Alumni and Indonesia, on June 11, 2021, the Embassy of the Republic of Indonesia in Tripoli made simple gathering with families and its Libyan pilot training participants.
During this meeting some enlightening views are appreciated, namely they are all satisfied with pilot education program in Indonesia. They are amazed with the Indonesian geographical challenge that valuable to increase their confident in flying in other area. We also pray together for the safety of our national generation during their activity.
Another confession being told that the participants get direct benefit. Foreign participants actually are provided by not only proper facility of the School and experience of geographical challenge where they attend or to fly during their training but also the center of excellent of aviation industries can also be found in Indonesia like aircraft manufacturing company such as Dirgantara Indonesia State Owned Company with quite good performances.
The above big national company has sold many products to international market. So foreign participants can deepen their horizon and understanding of the aviation world from Indonesia under facilitation of the School.
It is admitted that the aviation and academy activity are being impacted by the pandemic now. Without neglecting the pandemic situation now, the potential is actually bigger to be developed in the time ahead without neglecting health protocol.
It is hoped that the Pandemic Covid 19 which now still challenge the world will be overcome and the people movement will be back to their normal life again.
May the God Almighty direct us to right path and His barakah. Aaameen Ya Rabbal 'Aaalaameen.
Disclaimer: The views and opinions expressed in this article are those of the writer, and do not necessarily reflect those of the Libya Observer