UN-proposed government hints of rejection to Haftar's unilateral decision to attack Sirte
Khalifa Haftar militias' play with Sirte liberation card is seen as political opportunism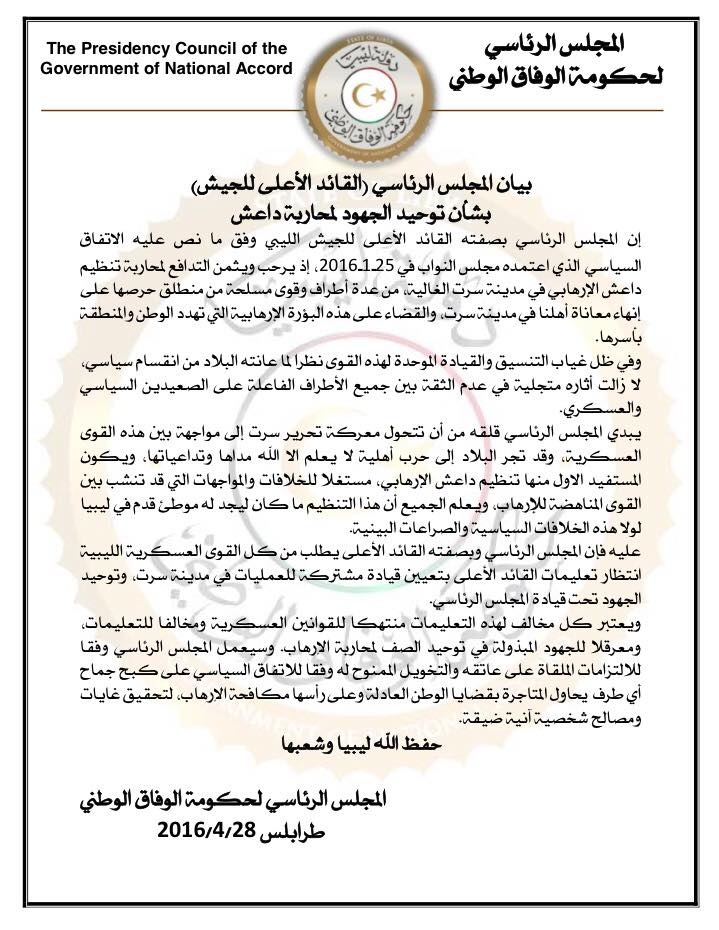 The Presidential Council (PC) of the UN-proposed government has called on all military forces to wait for the appointment of a joint leadership for the liberation of Sirte from IS, asking them all to unite under the command of the PC as being the Chief Commander of Army according to Skhirat agreement.
In a statement Thursday, the PC said any force that violates these orders will be interrogated for violation of military laws and hampering the efforts exerted to fight IS in the country.
It also pointed out that it is working according to the laws and duties given to it by the political agreement to stop all those who try to sell off the country's issues, above all the issue of fighting terrorism, to make personal profits, in a clear reference to renegade General Khalifa Haftar's latest announcement to liberate Sirte.
The PC added that it is afraid that the liberation battle in Sirte would turn into a confrontation among many armed parties and drag the country into civil war, out of which, only IS will come triumphant.
Misrata Military Council said it would abide by the PC statement and wait until orders are given to it to move.
Meanwhile, Khalifa Haftar militias said they are mobilizing forces to attack Sirte and retake it from ISIS. Ironically, these militia groups have been fighting for the control of Benghazi for almost two years now but they have failed.
On the other hand, Ajdabia Mayor Salim Jodran said his city will not allow Khalifa Haftar forces to pass through the city, pointing out that their aim is to control the oil ports for political gains.