Appreciation for Tripoli Fair on 16-22 October 2021
By Mohammad Amar Ma'ruf, Charge d'affaires of the Embassy of the Republic of Indonesia in Tripoli - Libya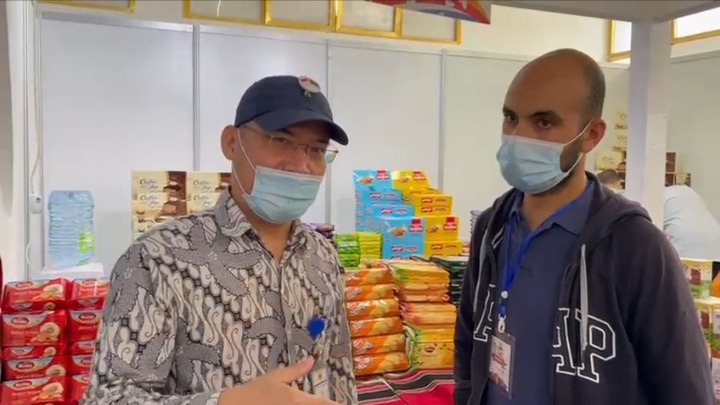 Entering the turn of summer to winter in the Mediterranean region, it also affects the pattern of activities of the local community. In this period, people begin to conduct the habit of storing daily needs in a reasonable capacity to undergo the cold winter season, which usually make many inhabitants stay at home and avoid them from extreme temperature. For this reason, local peoples will usually prepare their daily needs at home. One of them is for food and beverage needs as well as other basic needs.
This habit encourages the local government to hold exhibition or bazar in collaboration with local business actors and related stakeholders. However, at this time, this exhibition/bazar activity is especially for domestic business actors, which also happen to be a pandemic period, so this step is very appropriate to limit participants in a limited manner but with optimal results for the all related stakeholders, including peoples as a consumer.
This moment gives special meaning for me as the Charge d'Affaires of the Indonesian Embassy in Tripoli, who is personally attending this event. This exhibition also being utilized by the Indonesian products importer to participate along with the national and foreign product importers to exhibit and sold their good products. In this regards, I would also like to give my appreciation to the effort done by the Indonesian economic partners who are actively disseminating this activity.
It is also good to see that the exhibition is marked by interesting performance of Marching Bank and Chess Games as well as the presence of many dignitaries of Libyan such as the Minister of Economic and Trade as patron and initiator together with local dignitaries (Chairman of Board of Directors of Greater Tripoli Union Council, Chamber of Commerce and others), who is open officially this event. Their presence has given good impression toward national commitment in supporting the economic growth and give opportunity to local people to have better information and choice of good and reasonable products.
More than that, the above exhibition is not only intended to showcase of good products that being exhibited and sold, but also open the opportunities for all related stakeholders to get acquainted with or even strengthen networking and sharing their best practices among stakeholders in order to develop more potential business ahead. Furthermore, the event is not only giving message of commercial potential things but also giving hope for local peoples to maintain their job and/or even create new opportunities which may give income for them to provide their family needs without neglecting the protocol of covid 19.
On these opportunities, I, as the Charge d'Affaires of the Indonesia Mission in Tripoli, have also chance to meet the old partners who are lost contact and now revived to strengthen again the relations with their partner in Indonesia. I do also have a chance to share with them the upcoming event of the Trade Expo Indonesia 2021 which is conducted digitally (link: www.tradexpoindonesia.com). Through conducting these activities, the Embassy tries to facilitate them with collaborative manner to participate in their national trade and economic development.
May Allah azza wa jalla, the Almighty God, make the economic and trade activities Lantabuur (Barakah).
Disclaimer: The views and opinions expressed in this article are those of the writer, and do not necessarily reflect those of the Libya Observer