Library Contribution ; Answering Complexity of Diversity
By Mohammad Amar Ma'ruf, Charge d'affaires of the Embassy of the Republic of Indonesia in Tripoli - Libya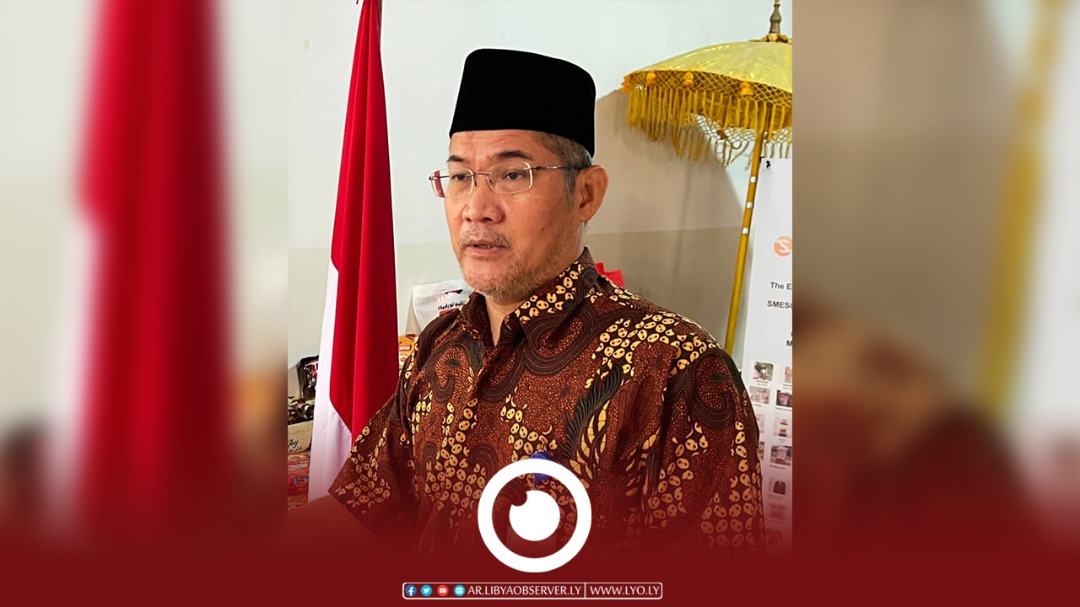 World situation seems never end with contradiction. It is not caused by the diversity in nature but it is caused by lack information toward issue that may suddenly bother uniformity. To have sufficient information on diversity, the extra effort to have more understanding is being needed by all, especially by establishing Library, especially the Library that can accommodate all issues. This is not an easy task but sincere effort and commitment may prevail.
During my stay in Libya for almost 2 and half years, it has been very enlightening moment to see the seed that being planted grow steadily and begin distributing good for the environment. In the middle of the heat, the soft wave of air and emergence of oases reduce tiredness and arising the spirit of serenity. This phrase deserves to be attached to any initiatives that make society and environment close to each other's and invite to explore their respected ability in order to be able to enhance their inner beauty as humankind.
Nature open chance for those who learn and wake up for sharing their valuable contribution to other creatures. The assertive feelings toward our environment becoming source of energy in awakening our awareness that we live for fighting for being good, not only good for themselves but also for other creation of God Almighty and good also with God Almighty itself as the Creator. We should understand that we have a lot of weakness. Meanwhile we also being given spirit of being good.
By having my collegue word Librarian from Indonesian National Library, Mrs. Ilus Lutfi, she mentioned in her status of Facebook (18 November 2021) in Indonesian text: Seperti embun mengerti pagi. Seperti ombak mengerti Samudra (Like the dew understands the morning. Like the waves understand the ocean), the emergence of activities that invite and give people a chance to understand diversity is valuable opportunity. This opportunity seems to be proper tool to learn and study more information to find balancing interpretation and manner toward new things through deepen studies and research on every aspects of life. As being implicitly explained on the above wise word, world is like an ocean that may fully packed with complexity in its condition.
To be proper place like an ocean, wise measures should responsibly accommodate huge and massive needs to maintain sustainable respect. It is heavy tasks but nothing impossible with commitment and collaboration. Commitment and collaboration to gain respect and tolerance to the detailed element for sustainability of interaction.
Those above narration urge all Librarian in providing relevant facilities in order to give more reliable source of information for its user. And this become a challenge for all organizer to cooperate and exchange of best practices on the matter how records in the form of conventional book or printing or digital form to be good preserved and managed and to be used as theoretical and practical references or guidance.
The above discourses are clearly discussed during the Celebration of First Year Anniversary of Ali Gharyani which is held on November 28, 2021 at 16.00 at the Ali Gharyani Book Centre in Tajoura-Libya in order to make the Ali Gharyani Book Centre becoming more accommodative for the people needs now and in the future. This expectation is not exaggerate since the Libyan peoples is familiar with dialog and discussion for having better solution toward their social and technical life.
Knowing that situation, since the day of inauguration of the Ali Gharyani Book Centre, on November 28, 2020, the Embassy of the Republic of Indonesia in Tripoli has initiated many activities with this Centre in varied aspects of social and technical issues that relate to empowering people to fulfill their basic needs. Those relates with environment protection, health and people empowering.
This interaction become more interesting when Indonesian National Library guides us on the technical subject that may enhance the capability Ali Gharyani Librarian by opening communication digitally between the staff and Librarian. The Indonesian National Library also open and give opportunity for all Libyan Stakeholder to use special room for Libyan Publication in order to be known by the visitor of Indonesian National Library.
This opportunity has been given by the Indonesian National Library for the first time in the year of 2020 when the Embassy of the Republic of Indonesia in Tripoli in collaboration with The Cultural Office of Libya under the Minister Hassan Onais, published the First Joint Collection of Indonesia-Libya Cultural Heritage. Libyan reader can see the publication through applying Electronic Application of Indonesia National Electronic Book Application by typing IPUSNAS or typing: http://webadmin.ipusnas.id/ipusnas/publication/books/160577. After finding the menu, you can type in the search line by typing the title: Alam dan Kumpulan Beberapa Produk Budaya/Warisan Budaya Libya Indonesia.
The Indonesian National Library is also happy to share and cooperate on issues that may relate to the need of Libyan Library like Ali Gharyani Book Centre such as Training for Librarian in related aspects. This opportunity has been explained by Mr. Dodi Pribadi, Representative of Indonesian National Library via Virtual Presentation during the Celebration of the First Year Anniversary of Ali Gharyani Book Centre on November 28, 2021.
In that regards, the Embassy of the Republic of Indonesia always opens to bridge communication between these two Centers and librarian in order to enhance the intellectual understanding of the peoples through studying the reference book that available in each Centers.
Finally, by referring once again to the above Indonesian Library said (Mrs. Ilus Lutfi) "Like the dew understands the morning. Like the waves understand the ocean" .it is not exaggerating to help peoples who love reading in order to understand Nature and its complexity to avoid misunderstanding of diversity. In other words let us support and give salute to all Librarian and the Organizer of Library. We know that opportunities must be created for better situation for all.
Wassalamu'alaikum wa Rohmatullahi wa Barakatuh. Stay Safe and Stay Healthy.