Misrata and Tawergha sign peace treaty
The Tawerghan IDPs in east Libya, who back Dignity Operation, rejected the peace treaty, saying "it's Muslim Brotherhood propaganda"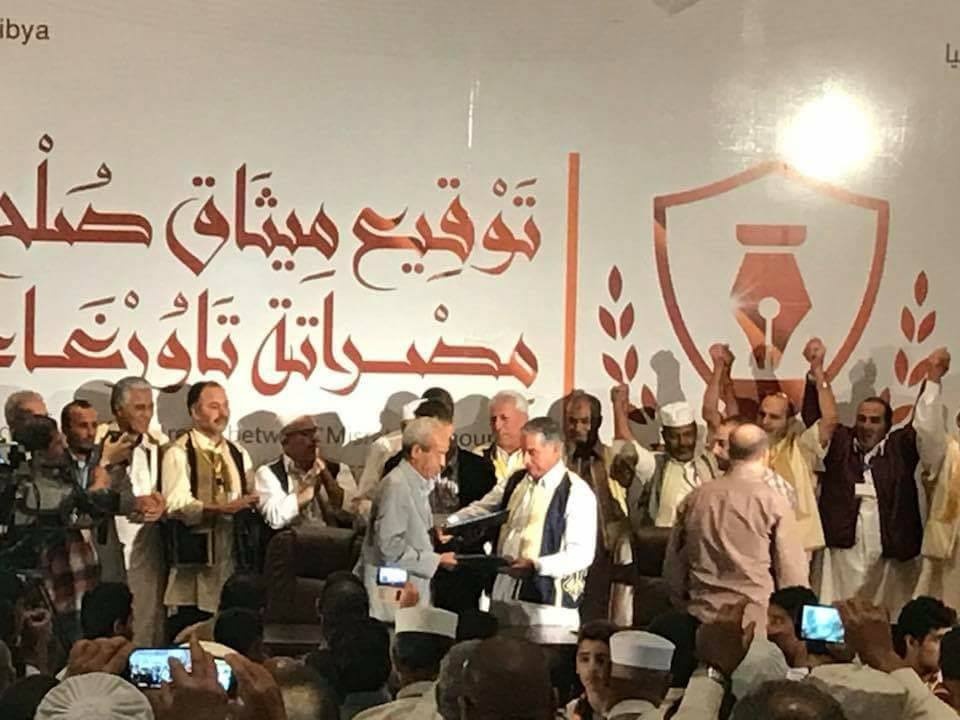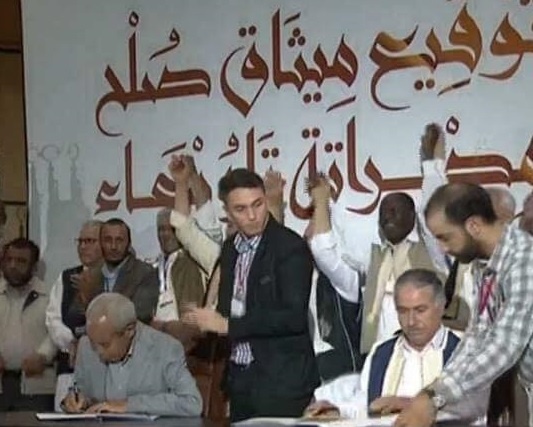 Misrata and Tawergha signed on Sunday night a historic peace treaty to end dispute between the two cities and allow Tawergha IDPs to return "immediately" to their town, ending a seven-year long chapter of conflict and displacement.
The treaty was signed in Misrata by Misrata mayor and head of Tawergha Local Council.
The Tawerghans apologized to the Misratans about the atrocities committed by their sons in 2011 in Misrata.
The two sides agreed to "turn the page and forget the past," and promote social peace and coexistence.
According to the treaty, the Tawerghans will work side by side with the Misratans and coordinate with them decisions or any actions they take regarding the public interest, and refrain from taking part in any coalition against the public interest or Misrata security.
"Tawergha should not harbor wanted people or members of terrorist groups," the treaty states.
It also obliges the Tawerghans to stop media war and protests against Misrata and help in finding the missing people.
The Misratans agreed to allow Tawergha IDPs, who recognize this treaty and promise to implement its items, to return to their town. The return of the IDPs will be supervised by the Central Military Zone and Misrata Security Directorate.
In a first reaction, Libyan Grand Mufti Sadiq al-Gharyani made a TV statement hailing the peace treaty and urging all Libyans to reconcile and allow all IDPs to return to their towns.
Meanwhile, The Tawerghan IDPs in east Libya, who back Dignity Operation, rejected the peace treaty, saying "it's Muslim Brotherhood propaganda."
[VIDEO::https://www.youtube.com/watch?v=oIITGndtWt4]